Steamboat Meat & Seafood Co. serves lunch and offers fresh and frozen seafood, meats, gourmet sausages, homemade pastas and a wide variety of other items. 1030 Yampa St., 970-879-3504, 9 am-7 pm M-Sat., 11 am-6 pm Sun., Serving lunch daily 11 am-2 pm

Instead of doing things like, oh, say, putting up the lights around his downtown Steamboat Springs apartment (like Ophelia has asked him to, over and over and over) Bill has been hitting the slopes every morning before work.

Bill hits the slopes and the town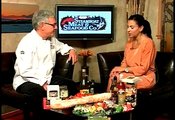 Bill Hamil of Steamboat Meat Seafood brings in offerings from his downtown shops as a celebration of 30 years in business on the Steamboat Today morning show.
1030 Yampa St., Steamboat Springs
Steamboat Meat & Seafood, a USDA-Inspected and HACCP Certified facility, was originally established as the Steamboat Seafood Company in 1982 with the vision of bringing the freshest seafood to the Rocky Mountains. We have since then grown into Northwest Colorado's ...
Create search alert for ""steamboat meat & seafood""