Kali Waldman's loves art because of its endless boundaries. The second-grader will have a show Friday at Kneading Hands Therapy.

Kali Waldman, a 5 1/2-year-old whose favorite color is "light darkish purple," will be hosting her own art opening from 5 to 8 p.m. Friday at the coffee shop in Centennial Hall.
September 2, 2011 12:33 p.m.
Wondering what to wear for wedding season? Kelsey Martin found the perfect dress for the occasion.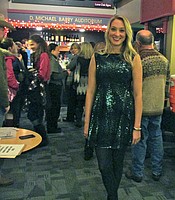 Vertical Arts Architecture (fashion show) and Amante Coffee (after-party), Wildhorse Marketplace
Create search alert for ""kali's""