Customers who walk into Allen's Clothing on Lincoln Avenue might not realize that people walked on the same wooden flooring during the Great Depression and World War II. Tod Allen has been co-owner of the store for about 25 years with his wife, Robin Allen. It's a retail legacy that turns 100 this year.
Bill ventures out to the Steamboat Springs Pro Rodeo Series this week.

Locals also love Zirkel Trading and Ski Haus for men's garb
Although the store has evolved throughout the years to selling sportswear, ski and snowboard apparel and women's clothing, men's clothing still is its specialty.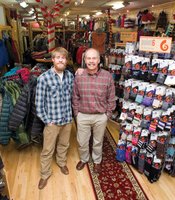 828 Lincoln Avenue, Steamboat Springs
VOTED #1 MEN'S CLOTHING STORE FOR 2011 Allen's Clothing, in downtown Steamboat Springs, strives to be your one stop clothing store. Allen's prides itself in a diverse inventory, ranging from men's and ladies' sportswear, ski and snow board apparel, and ...
Create search alert for ""allen's clothing""