What in Steamboat are you searching for?
Spring Creek Trail #1160
Steamboat Springs, CO
(See Description For Trail Head)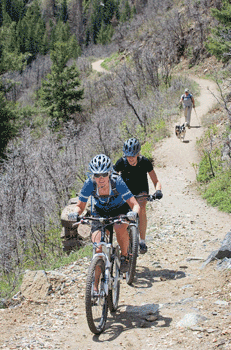 About this place
The Spring Creek Trail is a 5.2 mile, multi use trail that is popular for hiking and biking with residents and visitors to Steamboat. Parking is located at the intersection of East Maple Street and Amethyst Street. The trail follows RCR #34 for approximately .5 miles to the Spring Creek Park and continues past the park, up the canyon for approximately another mile. The trail becomes a classic single track on City of Steamboat Springs property for the next 1.5 miles, climbing gently along the creek. The last 1.4 miles of the trail continue to climb in the Routt National Forest to the end of the trail at Dry Lake Campground, off of RCR # 38, Buffalo Pass Road.