Cooking With: Salt & Lime executive chef Vicki Connacher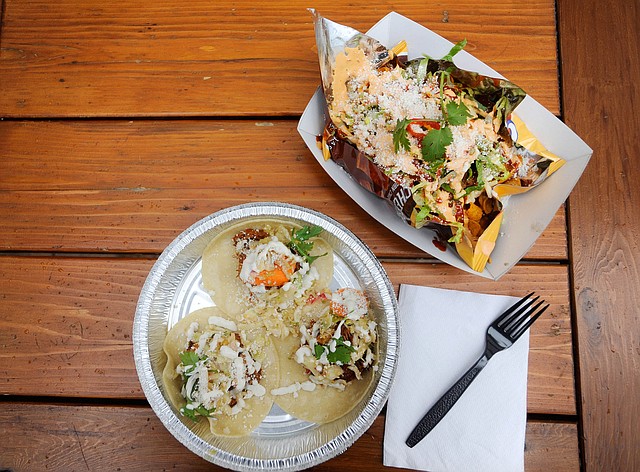 Steamboat Springs — It's simple. It's fast. It's approachable. It's trendy tacos.
Drive by Salt & Lime and you'll see a new addition featuring a trendy big-city-style food truck concept of the modern taco.
Rex's Family of Restaurants opened its newest addition — Salt & Lime's Burrito Bar — with a soft opening on Cinco de Mayo, May 5.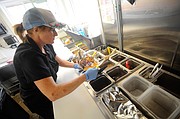 Inside scoop:
Burritos: Instead of separate bites (you know, heaps of just rice, or just beans, until you even get to the veggie or meat part) spread out the ingredients to ensure you get each flavor and space in every bite.
Tacos inside: Each taco is presented as "the star of its own show" (one of chef Vicki Connacher's culinary ideas) with personalities in the form of perfected garnishes and sauces.
Tacos outside: Served three at a time, you'll see a more simplified version but with the same flavors and taste as the variations found inside.
Frito Pie: Salad meets nachos on top of star-shaped cutouts of Fritos bag for the Salt & Lime rendition of its own "walking taco."
What to try: Carnitas Taco and the Frito Pie
Be on the lookout for: Breakfast at the Burrito Bar starting Memorial Day weekend.
"We really wanted to have the ability to tie this corner in with the restaurant," said Nick Sharp, director of operations, about the Burrito Bar that is located right next to the main restaurant at 628 Lincoln Ave. "There are some really great Mexican restaurants in town, but this is authentic non-smothered Mexican cuisine featuring quality ingredients and fresh cocktails."
The outdoor spot was envisioned by Rex's Family of Restaurants owner Rex Brice, along with Sharp and executive chef Vicki Connacher, as a one-stop spot that originally started off as a taco stand.
Frito Pie Recipe from Burrito Bar
Ingredients:
One package chili cheese Fritos
2 ounces of your favorite queso sauce
2 ounces of black beans
1 ounce home-made salsa
2 ounces of seasoned taco beef or grilled steak
I handful of shredded iceberg lettuce
A pinch of pickled escabeche peppers
1 ounce home-made barbecue sauce
1 ounce chipotle sour cream
Sprinkle of Mexican cheese
Garnished with fresh jalapeños
Step1: Open bag of Fritos and layer all ingredients in big bowl.
Step2: Enjoy while walking down the street to Steamboat Springs
Add the liquor licensing for a bar component into the mix of the 168-square-foot space, and the result is what Sharp said he hopes will be a central hub of activity downtown.
"It can be this outdoor place where you can get a margarita, hang out with a few friends and then be on your way to a barbecue or event," Sharp said. "It's evening culture and daytime culture as a fast lunch and eatery spot."
With the same taste and ingredients patrons can find in Salt & Lime, the Burrito Bar features a simplified presentation for tacos, served three at a time on a tray, and the burritos, served on 12-inch tortillas.
The space, which once was home to Tacos Del Barco, was known to have an ordering window facing Beau Jo's Pizza and a few picnic tables for seating near the raised flowerbed. Now, the patio has been transformed.
Following the curvature of the flowerbed's brickwork, Brice began with a bar rail design so patrons could sit and watch the parade on Fourth of July or relax in the summertime sun to watch people passing by on the sidewalk. After the initial bar rail design was created, shade structures, wooden tables and seating was added.
To tie the restaurant and Burrito Bar together, the ordering window was moved to face Lincoln Avenue and access from the restaurant was created with the addition of the small staircase.
"The two work back and forth," said Sharp. "We wanted to create a focal point and also needed easier access, so the front of Salt & Lime and the front end of the Burrito Bar are one. If you're on the waiting list for the rooftop patio or for inside the restaurant, you can swing by the burrito bar and have a quick drink or appetizer while you wait."
One of the favorites on the progressive taco bar lineup is the Frito Pie.
The idea for the menu item started eight years ago on a girls trip to New Mexico, when Vicki Connacher, executive chef of Rex's Restaurants who also helped create the featured items on Salt & Lime's menu, found a taco stand behind a little café.
"I walked home with it [the Frito Pie] and found that it had so many different levels of creamy, crunchy, fresh goodness, and I thought, 'How can we put this on our menu?' This seemed like the perfect addition."
Sharp described the Frito Pie as the $2.50 traditional Midwestern gas station lunch for the on-the-move, working-class customer. Open a bag of Fritos, add the gas station's rendition of chili, onions and cheese to dress the chips up, and voila, Frito Pie.
Some may even know it as a "Walking Taco."
"A lot of thoughtfulness goes into the food we put on the menu," Connacher said. "Each dish has its own personality. With this, everybody loves nachos, and this is a fun take on salad meets nachos."
"Cooking With" is Explore Steamboat's newest column, giving readers a behind-the-scenes look at a variety of Steamboat Springs restaurants and culinary inspirations. If you have a restaurant in mind, contact Arts and Entertainment Editor Audrey Dwyer at adwyer@steamboattoday.com or 970-871-4229.