Splashdown Pond Skim event at Steamboat Ski Resort cancelled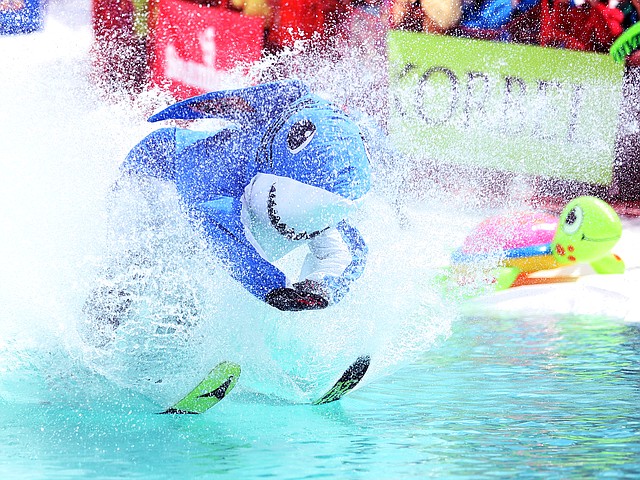 Originally published April 13, 2017 at 11:07 a.m., updated April 13, 2017 at 1:51 p.m.
Steamboat Springs — Due to unseasonably warm temperatures this spring, the 2017 Splashdown Pond Skim has been cancelled.
"There has been a deterioration of snow at the base area," said Loryn Kasten, senior communications manager for Steamboat Ski and Resort Corp. Thursday. "And it takes a lot of snow to dig a pond for the Splashdown Pond Skim event and the Cardboard Classic can go on with less amount of snow. We've decided to best utilize the snow we have."
The 2014-15 season was the last year this event was cancelled due to warm conditions.
Luring costumed skiers and riders brave enough to skim across an icy pool at the base of the ski area, the Splashdown Pond Skim has traditionally been part of the Springalicious festivities for closing weekend.
Rounding up amateur and professional cardboard craft engineers in a race down the mountain, the 37th Cardboard Classic will kickoff at 9 a.m. Saturday with check-in for participants. Judging will start at 10 a.m.
Awards will be given to teams for the best representation of the following categories: Coca-Cola Classic, most creative, best individual craft, best reproduction, judge's choice, best costumes, crowd favorite and best engineering.
Also part of the Springalicious Festival will be the last two Bud Light Rocks the Boat free concert series performances. Anderson East, an American rhythm and blues musician from Alabama, will take the stage at 3:30 p.m. Saturday.
And then at 3:30 p.m. Sunday, the legendary Wailers band will bring its distinctive, intricate arrangements and lyrics to the Gondola stage to close out the 2016-17 ski season.