Eggstravaganza in Steamboat Springs features 20,000 eggs dropped from a helicopter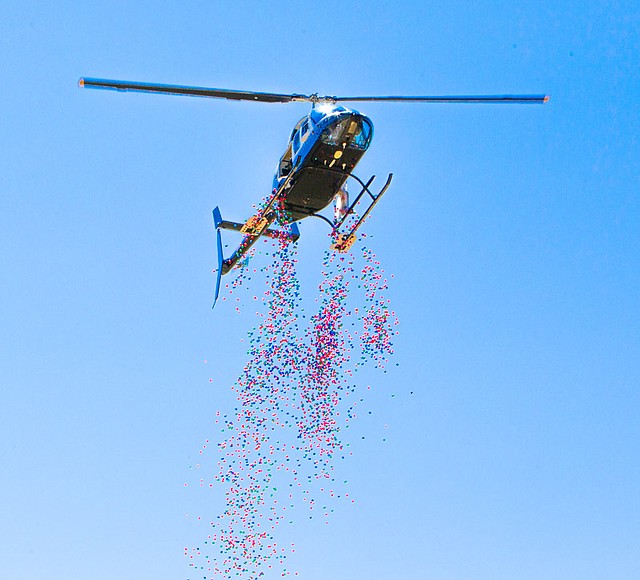 Steamboat Springs — About five years ago, a helicopter was used to drop thousands of Easter eggs on beds of straw for Steamboat's big "Eggstravaganza." The idea wasn't really thought out well.
"It was at Howelsen Hill, and we didn't think what would happen with the straw … it was like a tornado," laughed Troy Lewis, senior pastor at the Steamboat Christian Center, which sponsors the event. "We learned. Now, we ask them to fly higher."
If you go:
What: Easter Eggstravaganza, hosted by Steamboat Christian Center
When: 10 a.m., Saturday, April 15
Where: Steamboat Springs Middle School football field
In its 11th year, the Easter "Eggstravaganza," which was moved to the Steamboat Springs Middle School football to accommodate the crowd, will be adding a little entertainment for the adults this year. The church is bringing in a mechanical bull, and food trucks will be set up to accommodate the thousands of people that usually show up for the church's biggest event of the year.
With an early spring, everyone is expecting a huge turnout at the event, which will take place from 10 a.m. to 12:30 p.m. Saturday.
"It's going to be pretty incredible," says Jeff Sublett, the newest pastor at the Christian Center.
A recent transplant from Miami, the new youth pastor sounded more excited than the local kids.
"This is the greatest town ever," said Sublett. "We're giving away 80 bicycle, scooters and skateboards. We have 20,000 eggs to give out."
Easter festivities planned in South Routt
Meanwhile, the town of Oak Creek is holding its 25th annual Easter egg hunt at Decker Park — a more subdued small-town affair.
And unlike the Steamboat Eggstravaganza, community members get together and color real eggs and help city officials hide them with the plastic eggs.
"We also try to include the teenagers," said Oak Creek Mayor Nikki Knoebel.
If you go:
What: Oak Creek Easter egg hunt
When: 10:30 a.m. Saturday, April 15
Where: Decker Park
"We do a scavenger hunt for them. The teens really get into that."
Oak Creek helps fund the Easter Egg Hunt every year by selling tickets for basket giveaways.
"We have 10 or 11 baskets, maybe more, with everything from a wine basket to food baskets and gift certificates," said Deputy Clerk Alison Moore.
"The baskets are geared more toward the adults but there are a few kid baskets."
Moore says the baskets are usually loaded with items and services found in local businesses in Oak Creek.
"We try to keep it local," Moore said.
Children also have an opportunity to show off their creative talents with a "best dressed egg" contest and a bonnet-decorating contest.
Back in Steamboat, Pastor Lewis said it's difficult to find a local child who hasn't won some kind of bike or skateboard at the Eggstravaganza over the years.
"It's been amazing to me. Every year there are kids that win bikes that have won before," Lewis said. "And they'll give it away to other kids. This generosity just spreads," Lewis said.
But one story stands out.
"About four or five years ago we had a little boy come to church a week before Easter with his grandfather," Lewis shared. "He brought a bike up and wanted to donate it and give it away at the egg hunt."
When Lewis asked why, the 10-year-old explained his bike was destroyed in am accident a year before in the city where he lived. While visiting his grandfather in Steamboat for Easter, he had prayed he would win a bike during the Eggstravaganza.
"He actually won a bike and was so tickled," Lewis said. "He spent the next year doing odd jobs so he could buy a bike to bring for the Steamboat Easter egg hunt."
For those wanting to see the Easter Bunny and hunt for eggs, Oak Creek activities start at 10:30 a.m. Saturday with the teen scavenger hunt set for noon at Decker Park. Tickets for the basket drawings can be purchased at Oak Creek Town Hall and at the event.
For Steamboat's Eggstravaganza, the Easter Bunny shows up at about 10 a.m. Saturday at the Strawberry Park Middle School football field. To register for the prize giveaways go to steamboatchristian.com/eggs.