Celestial News: See Jupiter at its best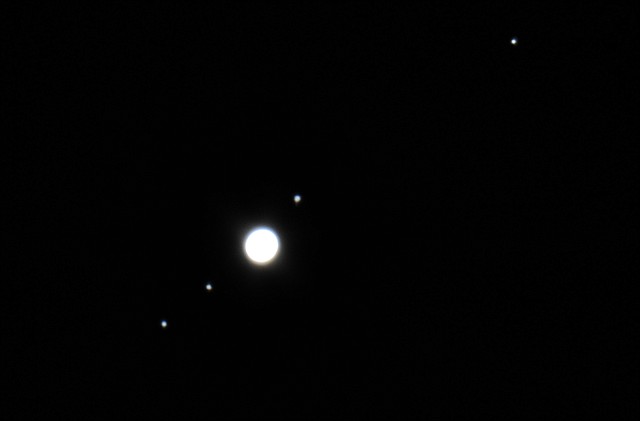 The solar system's largest planet, Jupiter, reaches its closest point to Earth this month and will dominate our evening sky through the coming spring and summer months. Jupiter is the king when it comes to ruling the late night sky, shining brighter than any other star-like object. Venus can shine brighter, but Venus is only visible at dusk or dawn, never at midnight.
Jimmy Westlake
Jimmy Westlake's Celestial News column appears monthly in the Steamboat Today.
Find more columns by Westlake here.
Jupiter comes to opposition once per year, when the faster-moving Earth gains a lap on the sluggish giant and passes between Jupiter and the sun. It will be at its closest point to Earth and brightest in our sky April 7. Jupiter will rise over the eastern mountains just as the sun goes down in the west. It will gleam brilliantly from high overhead in our midnight sky, with the constellation Virgo in the background.
On the night of opposition, Jupiter will be about 4.45 astronomical units, or about 414 million miles, from Earth. (One astronomical unit is the average distance between Earth and the sun, about 93 million miles.)
Steady binoculars or any small telescope will reveal Jupiter's four traveling companions, discovered by Galileo in 1610. They are the four largest of Jupiter's 67 known moons — Io, Europa, Ganymede, and Callisto. Watch, from night to night as they dance around Jupiter and constantly change their positions.
Through a medium-sized telescope, you can spot the two dark cloud stripes that straddle Jupiter's equator and maybe even the famous Great Red Spot, a spiraling storm that is larger than our entire planet.
Also on the night of opposition, Jupiter will shine only 1/3 degree away from a little star called Theta Virginis. Don't mistake it for one of Jupiter's moons.
Jupiter will remain close to Virgo's bright alpha star, Spica, all year, offering a great opportunity to prove to yourself that stars twinkle and planets don't. The name Spica means "the Ear of Wheat" and derives from the same Latin root as our word "spaghetti." Spica is literally the Spaghetti Star.
On the night of April 10, Jupiter will shine only 2 degrees away from the full egg moon, with Spica twinkling just 6 degrees below.
Catch all three rising together over the mountains about 8:30 p.m. for a spectacular cosmic moment.
Professor Jimmy Westlake teaches astronomy and physics at Colorado Mountain College's Steamboat Springs Campus. His "Celestial News" column appears monthly in Steamboat Today. Check out his astrophotography website at jwestlake.com.