Kelly Bastone: Visit to Steamboat Lake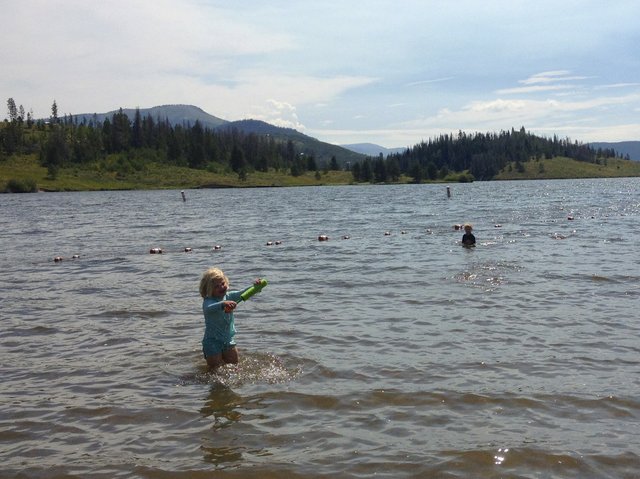 Steamboat Springs — It's been scorching hot in town for nearly a week. We've slept without so much as a sheet for cover, because the nights stayed above 60 degrees, even in the hour before dawn cranked up the thermostat again. This is our cue, I thought, to visit Steamboat Lake.
For all the times I've been to this this mountain-ringed gem, I've never caught it on a genuinely hot day. It seems to occupy an unnaturally cold pocket of Colorado, one that shares more in common with Labrador than with our latitude. I end up groping for a jacket every time the sun floats behind a cloud, even in July, so I've rarely felt the urge to plunge myself into the lake's bracing water. I thought the latest heat wave might finally provide such a day.
With temperatures in town approaching 90 degrees, Ben and I packed up the car with swim toys and beach blankets and drove 30 miles north. I knew our plan was flawed as soon as we tumbled out of the car. Though the sun shone down strong, a chilly breeze provided all the cooling effect we needed. Swimming seemed too icy for comfort.
Simone was undeterred, however. She dashed into the water and soon befriended a boy with an extra water gun. He was delighted to strike up a battle. I played general, manning my post in the folding chair.
The swimming beach at Steamboat Lake is fantastic for small children. Even out by the boundary rope, the water didn't come up higher than Simone's armpits. The sand is a little gravelly, but plenty fine enough for juvenile building and excavation projects. It's like the kiddie pool at the Old Town Hot Springs—only much more frigid.
Within 45 minutes, Simone was shivering and her lips were purple. Hot cocoa seemed more appropriate than the iced tea I'd brought. But we coaxed her out of the lake for lunch, which she ate wrapped in three towels for warmth. When we announced it was time to drive home, her protests were brief, and weak. Though she'd clearly enjoyed herself in the lake, our cozy, sun-baked car seemed a welcome exchange. Yep, summer in Steamboat is brief. Up north, summer doesn't linger at all, but merely waves in passing.