OktoberWest puts a Steamboat spin on annual beer festival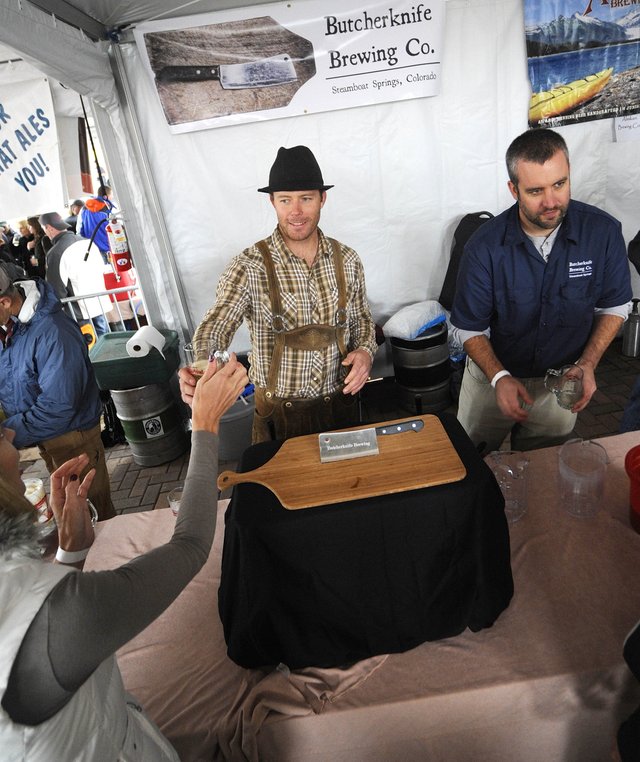 Originally published September 18, 2012 at 4:36 p.m., updated September 19, 2012 at 1:59 p.m.
Steamboat Springs — Editor's note: The schedule has been updated below.
OktoberWest schedule
Friday in downtown Steamboat Springs

5:30 p.m. Pedaling Posse Parade
6 p.m. Suds & Grub beer tasting and food specials at participating downtown restaurants
Saturday at Steamboat Ski Area
10 a.m. Gondola open
11 a.m. Coca-Cola Adventure Zone activities
2 to 6 p.m. OktoberWest beer garden open
2 to 5 p.m. I Love Beef Cook-Off and tasting
2:30 p.m. FREE concert with the Mile Markers
4:30 p.m. FREE concert with the Wheeler Brothers
5:30 p.m. Announcement of I Love Beef Cook-Off winners
Sunday at Steamboat Ski Area

9:30 a.m. to 4 p.m. Gondola open
11 a.m. to 5 p.m. Coca-Cola Adventure Zone activities

Event pricing

OktoberWest festival admission: FREE
I Love Beef Cook-Off: Available for $15 the day of the event
Beer Garden tickets: $25 in advance, $30 at the door; includes stein and unlimited 4-ounce tastings
Beer Garden & Beef Combo: $35 in advance, $40 at the door; includes stein and unlimited 4-ounce beer tastings
Buy tickets online here.
Some things never will change about Steamboat's OktoberWest.
The event fortuitously falls — like it does this weekend — at the near-peak for Steamboat's autumn foliage, the leaves matching the perfect golden brown of a nice wheat beer.
And there always will be beer — 18 local and Colorado breweries this year, to be exact — live music and the kind of fall comfort foods that help warm the cool autumn breezes.
Changes to the fourth annual event this year are meant only to enhance the OktoberWest atmosphere.
One major difference this year will be the rearrangement of the festival at the base of Steamboat Ski Area to incorporate the mountain's latest improvements, including the daylighting of Burgess Creek and the construction of the Steamboat Stage. The traditional lamb cook-off has been changed to local beef this year.
"It's a great event because we're going to be able to bring in a lot of people from out of town and show off our new promenade and the mountain village businesses," said Willis Wodnik, executive director of the Mountain Village Partnership, which puts on Saturday afternoon's festival. "It's a kind of end-of-the-season type of event for the area. To get people out one last weekend ... to take advantage of the base area and show what we've got."
The beer garden opens at 2 p.m. Saturday in Gondola Square, where there also will be children's activities and live music from the Mile Markers at 2:30 p.m. and the Wheeler Brothers at 4:30 p.m. Beer garden tickets, available here, cost $25 in advance and $30 at the door or $35/$40 for the beer and beef cook-off tasting combo. Admission to the event itself is free.
Lisa Warner, of Colorado Event Rentals, which is helping organize the event, said there are seven more breweries on tap this year.
Local brewers Butcherknife Brewing Co. and Mahogany Ridge Brewery and Grill will be on hand, in addition to some delectable fall brews from big names like New Belgium Brewing and Avery Brewing Co. as well as smaller operations like CooperSmith's Pub and Brewery and Grand Lake Brewing Company.
"It's just fun because it's regional," Warner said. "You don't normally get to taste a lot of these beers, and most of them are bringing the brewers, too."
But OktoberWest really gets off the ground Friday evening with the Pedaling Posse Parade cruiser bike ride and Suds & Grub event in downtown Steamboat Springs.
Starting at 5:30 p.m. in Little Toots Park, a short cruiser ride will take off down Lincoln Avenue and circle back up Yampa Street to the park. The theme is "Famous friends," so don't forget to dress up with your friends as well-known buddies like the Three Musketeers, Han Solo and Chewbacca or Marilyn Monroe and John F. Kennedy.
The Tap House Sports Grill, holding the official afterparty downtown, will give away a $100 bar tab to the best dressed and decorated.
Right after the parade, tokens for Suds & Grub beer tastings at seven participating restaurants will be for sale for $5 per six tokens. After 7 p.m., the tokens will be for sale outside Howelsen Place at Seventh and Yampa streets.
"It's not like the normal Oktoberfest," said Michelle Krasilinec, spokesperson for the Steamboat Springs Chamber Resort Association. "It's incorporating our Western heritage. That's what makes it unique.
"When else, other than Halloween, can you go and get dressed up and just cruise down Lincoln Avenue?" she said. "It's a real spectacle."
To reach Nicole Inglis, call 970-871-4204 or email ninglis@ExploreSteamboat.com