Professionals gather in Steamboat for culinary tourism workshop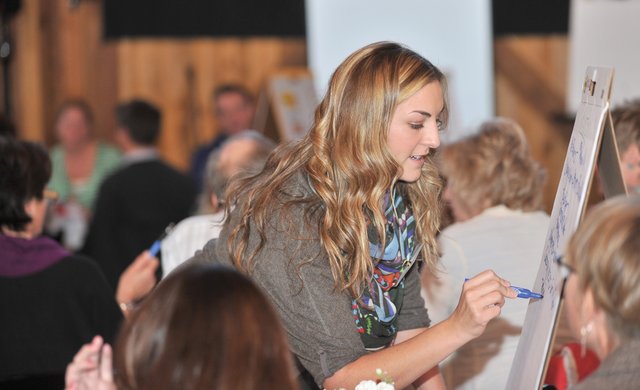 Wednesday, October 10, 2012
Steamboat Springs — The most basic human needs of food, water and shelter still apply to those on vacation. But these requirements can be fulfilled beyond the bare minimum and used to enhance or drive a travel experience.
"Food is the one thing that unites everyone," said Erik Wolf, president of the World Food Travel Association. He was speaking Wednesday at Steamboat Springs' Larson Barn as part of the Colorado Tourism Conference.
He said that when returning from a vacation, friends invariably ask, "How was the weather?" and "How was the food?"
"It's something we all forget, but we eat three times a day," he said.
And during Wednesday's conference, that notion was played out before the workshop's participants.
As part of the culinary tourism workshop, tourism professionals from advertising agencies, chambers of commerce and visitors centers from across the state were treated to a breakfast, snacks and lunch made from regional foods.
There was Granola Gold on hand from Steamboat Springs and a caffeine boost from Steamboat Coffee Roasters. Daniela's Artisan Chocolates offered roasted nuts and sweets, and Yepello Chocolates and Confection sweets colored the table. bistro c.v. put together charcuterie trays, and there were locally made scones from City Cafe for a midmorning break.
"These people are from all over Colorado," said Steamboat Springs Chamber Resort Association spokeswoman Michelle Krasilinec, who was busy in the kitchen all day setting out the food spread for about 50 participants. "This is how Steamboat is starting to branch out and get our products out there. It all comes back to how we're inspired by the valley."
The workshop was presented by the Colorado Tourism Office Heritage and Agri-tourism program in partnership with the Northwest Colorado Cultural Heritage Tourism program.
Nancy Kramer, program coordinator for the five-county Northwest Colorado program as well as board member for the state program, said the conversation about how to promote cultural tourism is happening.
"My focus right now is so much on getting the word out on the stories and the way of life" in Northwest Colorado, Kramer said. "And that's not unrelated to food."
Those stories could be anything from Northwest Colorado's agricultural heritage to the wine and berries of Palisade to the beers of the Front Range.
Ideas began to take shape in the afternoon during a group work session, as the participants grasped the concept that Colorado as a brand has a world of opportunity left to explore.
"They know you ski here," Wolf said about Colorado's reputation internationally. "They get that. So what's next? There's so much more."
To reach Nicole Inglis, call 970-871-4204 or email ninglis@ExploreSteamboat.com