Steamboat resident John Grassby publishes 1st novel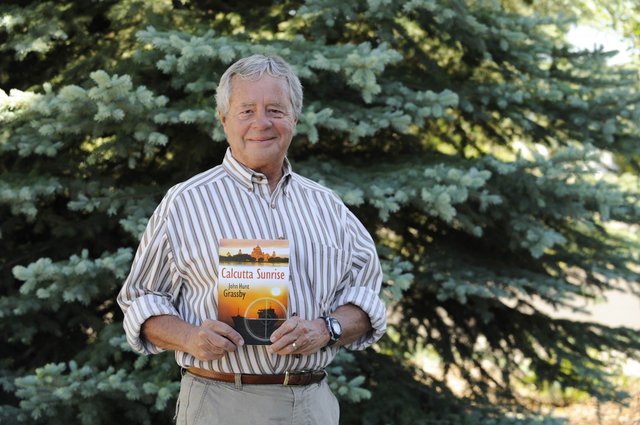 Past Event
Thursday, June 14, 2012, 6 p.m.
Off the Beaten Path, 68 Ninth St. , Steamboat Springs
Not available
Steamboat Springs — As Steamboat resident John Grassby recalls the first eight years of his life, it's the sensory memories that immediately and inevitably come to mind.
During the 10-plus years he spent writing his novel set in Calcutta, India, Grassby found he had no trouble writing from memory when it came to what he saw, heard and especially what he smelled during his time there.
"So much of what I'm writing about, the sights and the sounds and the smells and the crush of humanity and the heat and the humidity — all of those I really do remember," he said.
Grassby finished the novel more than five years ago but only recently found a publisher for the thriller, which is set in the 1940s against the backdrop of international crime and the forewarnings of the Cold War.
Nebbadoon Press, of Santa Barbara, Calif., published the novel in paperback, and Grassby laid his eyes on the finished product for the first time just two weeks ago.
"It's the feeling of tremendous satisfaction, gratification — a feeling of accomplishment," he said. "Because believe me, there was a long while in there that I wondered if this would ever happen."
Grassby will host an author talk and book signing at 6 p.m. Thursday at Off the Beaten Path Bookstore.
He said he never planned to write a novel, nor did he have a story planned out as he wrote.
But after he wrote the prologue, he said the characters began to weave the story on their own. He brought his work to weekly meetings of the Steamboat Springs Writers Group, where he said he was offered support, encouragement and honest critiques.
Grassby was born in Calcutta and moved to Mexico at age 8. He now is a practicing lawyer and has specialized in anti-trust, health care and real estate law. He wrote several columns for The Denver Post on the subject of U.S.-Central America relations in the 1990s.
Through his work, he's become fascinated with the role of large corporations in global politics, and he said he hopes the audience will glean more than just captivating entertainment from the book.
The story follows the wealthy manager of an international insurance conglomerate, his son John, his glamorous American wife, his lawyer and his lawyer's private investigator through the saga of a pirated freighter, the cargo of which will lead to the Cold War and the international drug trade.
"I want (the reader) to really start thinking more about the world we all live in, the role that big business and big government plays in defining and making that world," Grassby said.
But, he said, theirs is a message of hope in the main character of John, whose exploits will be chronicled in the sequel that Grassby already has started.
"It's whatever we do to others, we're doing to ourselves," Grassby said. "You can't do terrible things to others thinking there are no consequences. Maybe we'll reconsider the terrible things we keep doing to one another."
To reach Nicole Inglis, call 970-871-4204 or email ninglis@ExploreSteamboat.com