What in Steamboat are you searching for?
Strawberry Park student wins Steamboat Ski Area safety poster contest
Sarah Heineke recognized for urging skiers and riders to stay in bounds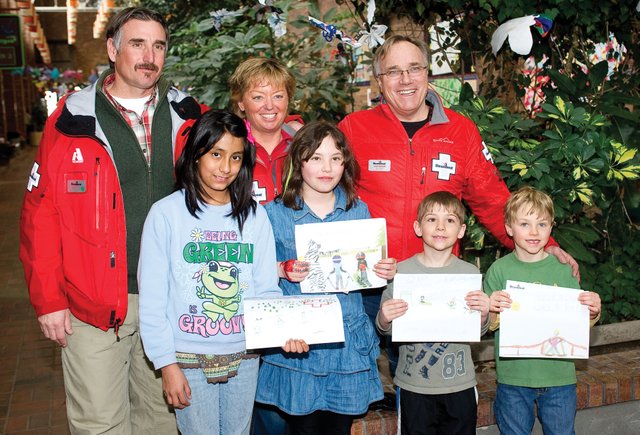 Steamboat SlopeWise Safety Poster Contest winners
■ Strawberry Park Elementary School
First: Sarah Heineke (grand prize winner)
Second: Marie Santiago and Amanda Walker
Third: Colin Kagan and Logan Spiegel
■ Soda Creek Elementary School
First: Eric Casey
Second: Liam Baxter
Third: Eliza Bodden
■ Christian Heritage School
First: Clinton Bradt
Second: Canon Reece
Third: Lily Fox and Abi Berlet (tie)
■ Lowell Whiteman Primary School
First: Marjorie Hellyer
Second: Tinsley Wilkinson
Third: Thomas Faunce
■ North Routt Community Charter School
First: McKinley Muhlbauer
Second: Ezra Tebbenkamp
Third: Lila Thomasson
■ Hayden Valley Elementary School
First: Angelica Torres
Second: Allison Ingals-Irwin
Third: Mason Remington
■ South Routt Elementary School
First: Grace Olinger
Second: Kylee Coleman
Third: Veda Marshal
Steamboat Springs — Strawberry Park Elementary School fifth-grader Sarah Heineke had no idea why she was called to the principal's office Thursday afternoon.
"At first I was sort of scared, and then my teacher said my mom was here," Sarah said. "She didn't say anything to me, so I didn't know what was going on."
Her mom wasn't there, and she wasn't in trouble. Instead, Sarah was awarded the grand prize in the 11th annual Steamboat SlopeWise Safety Poster Contest — a free ski pass for next season.
Sarah's poster was chosen from submissions from more than 300 Routt County students from Strawberry Park, Soda Creek, Hayden Valley and South Routt elementary schools; North Routt Community Charter School; Lowell Whiteman Primary School; and Christian Heritage School, said Michele Baxter, school safety program coordinator for Steamboat Ski Patrol.
The top three posters from each school were awarded — $50 cash for first, a $25 Steamboat gift certificate for second and a pizza pack for third.
Elementary school students could participate in the poster contest after a presentation about SlopeWise on-mountain safety and the responsibility code from Ski Patrol members.
Baxter said more than 1,500 students heard presentations this year.
"Our children on the hill represent our community," she said. "For other people to be safe on the mountain, the kids have to set an example up there."
She said Sarah's poster, which was judged by Steamboat Ski and Resort Corp. employees, won because of the quality of the drawing and its message. It depicts a skier and snowboarder thinking about heading out of bounds underneath the message, "Stay off closed trails, and areas."
Sarah said she previously finished in the top three when she was in the third and first grades, but never won the grand prize. Sarah said she was "psyched" to find out she won the poster contest.
"It's really amazing to win this because $50, it's a lot of money," she said. "Then, getting a free ski pass is really, really cool instead of paying for one next year."
Sarah's poster, and the rest of the first-place winners, will be entered into the National Ski Areas Association safety poster contest to compete against students from across the country in two categories. Posters chosen as best overall safety message and most creative design will be featured in the June/July issue of the NSAA Journal.
— To reach Jack Weinstein, call 970-871-4203 or e-mail jweinstein@SteamboatToday.com