What in Steamboat are you searching for?
Doak Walker Football in contention for Oct. 15 championships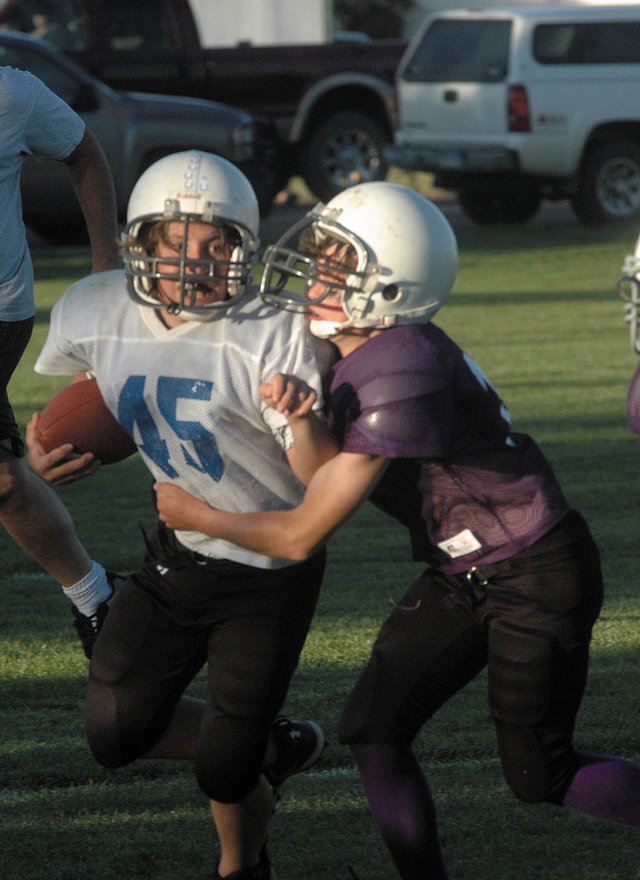 Wednesday, September 30, 2009
With the Cardinals on a bye week, coaches Justin Gallegos and Shane Hadley took a break Tuesday night by watching their potential playoff opponents dish it out on the gridiron.
On Tuesday, fifth- and sixth-grade Craig Parks and Recreation Doak Walker Football entered the sixth week of action at Woodbury Sports Complex, with the Colts taking on the Ravens.
"We're just starting to see how things will shake out," Gallegos said. "We want to keep an eye on the teams we might play."
As the season winds down, the Cardinals still are in contention to play in the Oct. 15 championship game.
On Tuesday, the fifth- and sixth-grade Doak Walker Football landscape changed slightly, with the Colts (4-1), overtaking the Ravens (3-2) by a score of 32-14.
The Colts will face the Steelers on Oct. 6 to fill out the other half of the championship game.
The Cardinals, 4-1, will face off against Hayden in their last game of the season to decide if they will advance to the season's biggest game.
And Gallegos and Hadley's team will not be overlooking the Tigers.
"We are going to be taking that game very seriously," Gallegos said. "If we lose that game, it changes everything."
The Colts improved their chances by mounting an offensive surge in the fourth quarter against a tough Ravens team.
Coaches Mark Balderston and Billy Bingham said they knew their team was in a good position as the season nears the end.
"They're starting to come together," Balderston said. "It was all eight guys on the field gelling together, and the rest of the team on the sidelines, cheering them on."
The more the Colts have played the better they have looked, Bingham said.
"They keep working hard and playing hard," he said. "They'll stand up to any team, like they showed today."
Bingham and Balderston agreed that conditioning and discipline have the Colts in a good position to advance.
"If they come out like they did tonight, it will be a good game," Balderston said.
"Our season is just starting," Bingham added.
Balderston and Bingham, who each have been pacing the Doak Walker Football sidelines for more than six years, said this year was shaping up like most others.
"The way we coach, our kids always seem to come together at the same time in the season," Balderston said. "Every season, they are at their best at the end."
Having a team that won't quit should make other teams nervous, Bingham added.
"They will never give up," he said. "Even if we are losing by 50 points, they will play through it."
Gallegos has been a Doak Walker coach for three years, and fall 2009 has featured some of the best ball he has seen at Woodbury Sports Complex.
"In third and fourth grade, the kids are just working on fundamentals," he said. "At the fifth- and sixth-grade level, they're running double reverses and pulling linemen - the type of stuff you would expect to see in middle school or even high school."
Hadley said the quality of play has improved this year.
"I'll be excited when we can root for all these kids when they are on one team," he said. "And working out their grudges with Palisade and Steamboat."