Candidates divided on financing issue
Council hopefuls gather for Rotary forum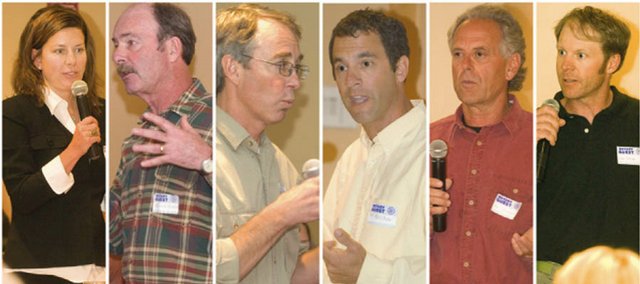 Wednesday, September 30, 2009
Election 2009
Visit
www.steamboatpilot.com/election2009
for complete coverage of this year's races and issues.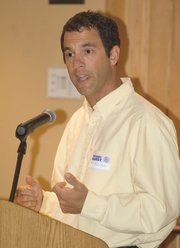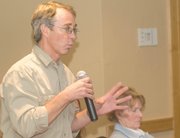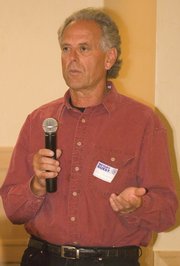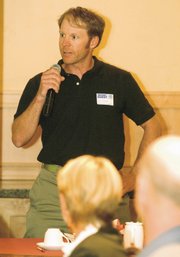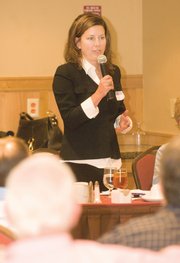 Steamboat Springs — Candidates for Steamboat Springs City Council were split on whether major capital projects should go to a vote at a Tuesday forum hosted by the Steamboat Springs Rotary Club.
The forum was sometimes reminiscent of two years ago, as Councilwoman Cari Hermacinski focused on some of the same issues from her successful campaign in 2007. Hermacinski currently holds council's at-large seat and is running for a District 1 seat against former City Council President Kevin Bennett.
In 2007, Hermacinski campaigned against the previous council's purchase of the Iron Horse Inn for affordable housing. On Tuesday, she criticized the Bennett-led council's use of the same financing mechanism - certificates of participation - to construct Centennial Hall and the Howelsen Ice Arena.
Local governments in Colorado can issue general obligation bonds with voter approval, according to the Colorado Department of the Treasury. The use of certificates of participation is a more complex form of financing that does not require voter approval because it is subject to annual appropriations and does not constitute a multi-year financial obligation, according to the department.
Although Hermacinski said certificates of participation violate the spirit of the law requiring voter approval for capital financing, Bennett defended their use to construct amenities desired by the community - but noted that he did not support the city's purchase of the Iron Horse Inn. In the case of the ice arena, Bennett said a group of residents came to council after raising $500,000 for the facility.
"Folks, that's a lot of bake sales," Bennett said.
Bennett also noted that the city leveraged its use of certificates of participation with various other partners to build Centennial Hall.
Asked later whether major capital financing issues should go to a vote of city residents, the other candidates had a chance to weigh in. Former councilman Jim Engelken, a candidate in the at-large race, agreed with Bennett.
"There's nothing wrong with using certificates of participation," Engelken said.
Engelken's opponent, Kyle Pietras, said he thinks a public vote on such projects would be "a prudent step."
In the District 2 race, Kenny Reisman said the City Council needs to operate efficiently and can't go to the voters on every decision but that it needs to go to great lengths to educate the citizenry about what it's doing. Reisman's opponent, Ken Solomon, said certificates of participation are justified.
"I don't have a problem with debt when it is the only way to bring amenities to fruition," Solomon said.
Final question makes waves
Bennett felt unfairly targeted by the final question at Tuesday's forum, which asked candidates if they had ever been convicted of a felony. Bennett was the only one to answer in the affirmative and disclosed that he was convicted of a drug-related charge in the 1970s.
"I must love this community to stand here and take this when this was all kind of a setup," Bennett told the audience.
Hermacinski also said she felt the question was inappropriate for the forum and that she was appalled when it was asked. She said Bennett has paid for his mistake and that she would prefer that the campaign be based on the issues.
Steve Hitchcock was one of the Rotarians screening questions, and he said after the forum that he thought it was fair to question potential public servants about their criminal history.
Rotary leadership, however, frowned on the question.
"I regret that a question was asked that clearly targeted a specific candidate, particularly when candidates were informed that this would not be the case," Rotary Club President and Steamboat Pilot & Today Publisher Suzanne Schlicht said.
Later Tuesday, Bennett expanded on the details of his conviction. He said he was convicted of conspiracy to sell hash and that he pleaded guilty. Bennett said he was in his mid-20s, broke and thought he could make some money when he offered up his truck to transport the hash. He spent five months in prison and paid a $2,500 fine.
"I have a good record of community service over the last several decades," Bennett said. "I made a mistake a few years ago. I have paid for my mistake and moved on."