Film board hopes to bring media production to Routt County
Group touts economic boost of productions, possible feature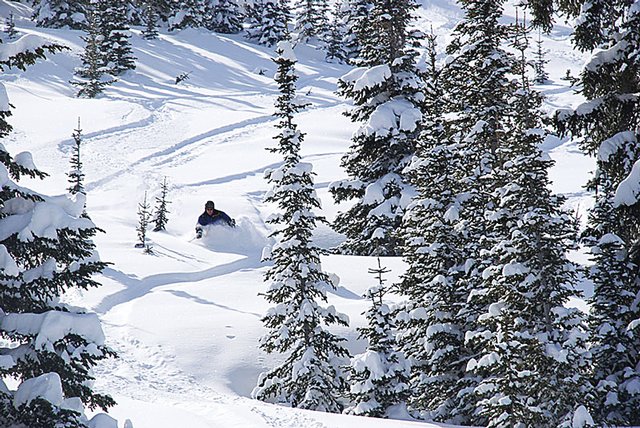 For more
■ Learn more about film and media production in Colorado through the Colorado Office of Film, Television and Media here.
■ With ideas, questions or pitches about bringing media production to Routt County, contact Molly Killien, of the Steamboat Springs Chamber Resort Association, at 875-7009 or at molly@steamboatchamber.com.
Steamboat Springs — A revived Yampa Valley Film Board is touting the economic and employment benefits of bringing media production to the region — and maybe, just maybe, could land a feature film that would shoot in Routt County next fall.
More than 50 people formed a standing-room-only crowd Wednesday night at Library Hall at Bud Werner Memorial Library to listen to representatives from the Colorado Office of Film, Television and Media discuss how to capitalize on the changing, growing film industry. Office Director Kevin Shand said "film industry" actually is an outdated term — his office uses "production community" to encompass film, television, commercials, catalog shoots, Internet pieces, still photography and even video gaming. All can bring business, dollars and attention to a community, he said.
Shand's office is a division of the Colorado Office of Economic Development and International Trade. Marcia Morgan, who handles marketing and business development in Shand's office, said the production community brought $145 million to Colorado in 2008.
Morgan said that number has room to grow. Media production brings about $500 million annually to New Mexico, she said, and brought $800 million to Louisiana in 2008.

"This is obviously a fertile ground," she said.
Shand and Morgan said production entities select locations largely because of finances, rather than scenery. The incentives a state or municipality can provide — such as rebates on money spent, film permit costs and logistical assistance — can determine where a film, TV show or commercial is shot. But legislating incentives is a tough battle, Morgan said, especially in a recession. An effort to boost Colorado's incentive fund failed in the state Legislature last year, Morgan said. She added that Colorado ranks 41st in incentives out of the 50 states, a statistic her office is working to improve.
The payoffs can be large.
Morgan said "Imagine That," a feature film starring Eddie Murphy, brought $3.25 million in spending to the Denver area during 12 days of shooting in 2007. That included 2,500 hotel nights and the hiring of 1,200 local extras, she said.
'Six Wire Winter'
Local media specialist Stacey Kramer has her eye on bringing that kind of prize to Steamboat Springs.
Kramer spoke Wednesday night about "Six Wire Winter," a film in the making set in the 1960s in the fictional Rocky Mountain community of Indian Springs, which has a heritage of ranching and skiing. Writer and director Peter Webb, of London, spent a year as a ranch hand with the Fetcher family in 1960 to 1961 and based the story on his experiences.
The independent film company Six-Wire Films shot some footage in Routt County in 2003, including a scene at Lyon's Corner Drug. Kramer said although the actors used six years ago did not make the cut, some footage still is intended for the film, and she also created a demo that brought producer Bertil Ohlsson and executive producer Julia Palau, Ohlsson's wife, on board.
Ohlsson has worked on films including 1984's "Amadeus," which won eight Academy Awards. He and Palau worked on 1993's "What's Eating Gilbert Grape," starring Leonardo DiCaprio and Johnny Depp.
"We are doing everything possible right now to ensure that it will be shot here next fall," Kramer said about "Six Wire Winter," for which Webb has continued to scout locations across Routt County and Colorado.
"There are a lot of pieces that still need to come together," Kramer said.
Morgan said the effort is "a dream project that we hope to see happen here" and called the film "a $10 million opportunity" for Routt County.
Smaller staples
Media production in Stea­mboat Springs normally functions on a smaller scale.
Greg Hughey, owner of High Drama Productions, has worked on all sorts of media projects in the area for the past 20 years, including Warren Miller films and "Filthy Rich: Cattle Drive," a reality show that was shot at Saddleback Ranch and aired on the E! network in 2005.
"What attracts filmmakers to Ste­am­boat is pretty much the same thing that attracts most people — we have great snow, great weather, beautiful scenery," Hughey said. "What they bring is not only dollars to the valley, by buying goods and services locally, but they bring exposure."
The Denver Broncos cheerleaders shot their 2009-10 calendar in Steamboat Springs in July, and later this month, NBC will broadcast the Olympic Trials from Steamboat.
Hughey said he is working on a project for an Eddie Bauer catalog.
Those kind of events have a multiplying effect not only on the local economy, Morgan said, but also on future tourists who want to relive experiences they see on TV or movie screens.
"It really is tourism on steroids," Morgan said.
Molly Killien, of the Steam­boat Springs Chamber Resort Association, said achieving those benefits is the goal of the Yampa Valley Film Board, which took shape in 1990 but has been dormant for several years.
"We are really in a re-energizing effort right now," Killien said. "We have so much to offer here in the valley."