First-time ultra runners top inaugural 50-miler
Sunday, September 16, 2007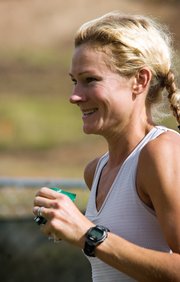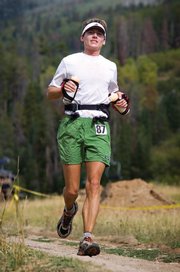 Steamboat Springs — Most people would probably take a week off after running 100 miles.
Then again, most people aren't Allen Belshaw.
The 40-year-old Steamboat Springs resident took third place overall at the grueling Wasatch Front 100 Mile Endurance Run, finishing in the early hours of Sept. 9.
Six days later, Belshaw was back out competing for a podium finish in the inaugural "Run Rabbit Run" Steamboat 50 Ultra Marathon.
Belshaw had a tight grip on second place in Saturday's 50-mile course from the base of Mount Werner to the base of Rabbit Ears Peak and back, until the final downhill.
Los Altos, Calif., resident Charles Corfield came barreling past Belshaw near the Rainbow saddle area so fast Belshaw joked that he "looked down to see if (he) was standing still,"
Belshaw's time of 8 hours, 51 minutes was good for another third-place victory, behind Corfield (8:46) and Aspen's Zeke Tiernan, who led the entire race to finish in an impressive 8:05.
Belshaw could smell the rookies at the 6 a.m. start on the lawn outside Slopeside Grill.
"I could sense there were a lot of first-timers out there, asking a lot of questions," Belshaw, who has a decade of ultra-distance races in the bag, said of the field of 80 runners.
One of those rookies was Tiernan.
The longest distance the 32-year-old Aspen native had run was a marathon three years ago.
Granted, Tiernan's competitive background - a two-time All-American for both the University of Colorado's cross-country and track and field teams - gave him the edge he needed to run 9.6-minute splits.
"Ever since high school, whether it's a blessing or a curse, I like to be in the lead," said Tiernan, whose run up Mount Werner surprised aid station volunteers as much as the moose he saw at Long Lake. "I saw someone behind me at the second aid station and kicked it into competitive overdrive."
Although Tiernan claimed he only walked a couple hundred yards the entire race, Samantha Sigle broke the race down to about half running and half hiking.
"You just keep positive thoughts running through your head, don't dwell on the pain and mentally tell yourself you're prepared," said Sigle, 32, who had also never competed in a 50-mile, ultra-distance race, but won the women's field in 9:44.
Steamboat's Jenna Gruben, another first-timer, followed Sigle in second in 10:14. Crested Butte's Mary Mahoney followed in third (10:17).
"Normally I love that downhill, but that was just brutal," Gruben said of the final six-mile, 3,500-foot descent of Mount Werner.
When it came to the perfect weather and the course's markings and terrain however, Gruben had no complaints.
"It's so nice to sleep in my bed, not have to drive anywhere and have everyone right here for an incredible race," Gruben said.
Other runners like Travis Mattern were ready to call it a running season after crossing the line. Mattern, the male overall point winner for the 2007 Steamboat Springs Running Series, took a well-earned seat on the grass - after making a wrong turn, he pushed the final downhill section to make his goal of finishing in under 10 hours by a minute.
"I need a break now," Mattern said.
For full results, visit www.steamboat50.com.