Fish Creek Falls a sight to see
How to get there
Heading east on Lincoln Avenue, turn left on Third Street. At the next stop sign turn right onto Fish Creek Falls Road. Travel on Fish Creek Falls Road for three miles until you reach the parking area.
Cost
The Forest Service charges $5 per vehicle per day.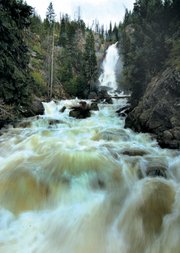 Steamboat Springs — One of the most popular hiking spots in the area is accessible off Steamboat's main drag.
The 283-foot cascading waterfall is a winter's worth of snowmelt crashing over a cliff into the canyon creek below.
Acquired by the U.S. Forest Service in the early 1980s, the Fish Creek Falls area offers hikes, a picnic area and signs with nature information. The area also is open to bikers and horseback riders.
A quarter-mile trail leads down to the falls. From there, hiking enthusiasts can take the six-mile hike to Long Lake that leads to the Continental Divide trail. A half-mile overlook trail gives visitors a birds-eye view of the falls.
The hikes to the overlook and the bridge at the base of Fish Creek Falls are well groomed and easily accessible.
Eventually, hikers reach the Upper Falls before continuing onto more switchbacks, a meadow area and Long Lake.
The six-mile hike to Long Lake will take hikers up steep switchbacks through heavily forested areas and aspen groves before opening into a lush green valley. As hikers continue along the trail, they will cross a bridge and can turn around to catch stunning views of the Yampa Valley and town.
Visitors also can take a shorter hike starting between the park's lower and upper parking lots. The 1.5-mile hike takes hikers to the Uranium Mines.