ENTERTAINMENT
September 13, 2014

On Saturday afternoon a creative display of cranes decorated the lawn of the Bud Werner Memorial Library for the Crane Yard Art event held in conjunction with the Yampa Valley Crane Festival.
MORE ENTERTAINMENT
LIFESTYLE
September 13, 2014

The secrets our government keeps, or tries to keep, clearly haunt Annie Jacobsen. In "Area 51", her first book, she sought to find what our military and intelligence agencies have been hiding on the restricted access Nevada air force facility from which the book's title was taken.
MORE LIFESTYLE
OUTDOORS
September 16, 2014

The Steamboat Hike and Bike to School program kicked off two weeks ago and encourages students to walk or ride to their schools on Fridays, weather permitting. The program is sponsored by the Safe Routes to School Initiative and Bike Town USA.
MORE OUTDOORS
Explore Steamboat Businesses
Browse by Category
Bars & Clubs, Movies, Film, & Video, Events, Venues, Video Stores, more
Auto Dealers, Parts & Accessories, Car Washes, Gas Stations, Towing & Wreckers, more
Barbers, Beauty Salons, Day Spas, Fitness & Exercise, Nails, Tanning Salons, more
Advertising, Organizations, Energy, Engineers, Industrial, Laboratories, Vending, more
Country Clubs, Social Services, Neighborhood Associations, Community Centers, Senior Services, more
Hardware, Installation Services, Repairs & Services, Retail stores, Training, Web design, more
Colleges & Universities, K-12 Schools, Music instruction, Preschools, Private & Parochial Schools, Tutoring, more
Restaurants, Grocery Stores, more
Alternative Medicine, Chiropractors, Counseling Services, Dentists, Doctors Clinics, more
Appliances, Cleaning Services, Furniture, Housewares, more
Moving & Relocation, Property Management, Agencies, Appraisal, Developers, Inspection, more
Bowling, Cycling, Golf, Paint Ball, more
Antiques & Collectibles, Books, Electronics, Furniture & Home Decor, Footwear, more
Architects, Bail Bonds, Banks, Carpentry & Cabinetry, Newspapers, more
Cruises, Hotels & Lodging, Limos & Shuttles, Taxi Services, Travel Agencies, more
600 South Lincoln Avenue, Steamboat Springs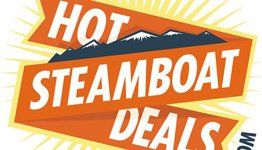 1901 Curve Plaza, Steamboat Springs
1901 Curve Plaza, Steamboat Springs
Rating: 5

Chad always has a great selection of skis and gear to check out or purchase. If you are an alpine ...

Reviewed by kathleen

Rating: 5

****Great Service and authentic Native American Indian Artistic jewelry, pottery, sand art, baskets, and so much more.** <BR> **Max waited ...

Reviewed by loghomes

Rating: 5

<b>We have eat Gyro's in New York, PA, NC, TN, VA, FL, and now Colorado. ***The Gyro's at Skull Creek ...

Reviewed by loghomes